Paid Advertisement
CHAMBERSBURG — With the date for the 2nd Annual EdK Memorial Run approaching, the family of Chambersburg Area School District's late superintendent is putting the finishing touches on the event they hope will become a permanent legacy for Dr. Ed Sponseller.
To do that, the family is depending on the continued generosity of the community Sponseller once served as an educator.
In addition to participants, organizers are stilk looking for sponsors, both monetary and in-kind.
Proceeds from the run will benefit Chambersburg YMCA's LiveStrong program, as well as another local non-profit organization.
Sponseller lost an 11 year battle with Lymphoma in April 2017.
The idea of starting a memorial run in memory of the popular educator took shape last year, in part because of the community's generosity at the time of his death.
His obituary asked for donations to the Chambersburg YMCA in lieu of flowers and his wife Susy said the community gave generously to the local Y.
Those donations, along with money from last year's memorial run, provided the seed money that allowed the Y to start a LiveStrong program to help cancer survivors.
"It was a much needed program," Susy Sponseller said in a recent interview. "Now it is our desire that it will be ongoing and grow."
The first annual Dr. Edwin H. Sponseller Memorial Run, which the family shortened to the EdK, featured 1, 5 and 10 K runs, with activities for every runner and every family.
That first run raised $5,507. The family gave $1,000 to a local breast cancer awareness organization. The rest went to the Chambersburg YMCA's LiveStrong program, serving cancer survivors.
The 2019 EdK Memorial Run
Date Sunday April 14, 2019
Race Time 2 p.m.
Location: Trojan Stadium at CASHS
Race Details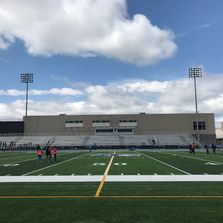 $10 1K Fun Run
includes snack box & award
$25 5/10K registrations
$30 RACE DAY
include t-shirt & other awards
(guaranteed if registered before April 1).
*all entries include LIVESTRONGband
Online registration is open and will close on Saturday April 13 at 8 p.m. register at
Same day registration and packet pickup will begin at 12:30 p.m. at the Trojan Stadium at CASHS, Dr. Edwin H. Sponseller Track & Field Complex, Chambersburg.
Registration closes 15 minutes before the event starts. The family asks participants to be considerate of others and register on time.

Trojan Stadium is directly accross the street from the Chambersburg Memorial YMCA, 570 East McKinley Street in Chambersburg.
This year's proceeds will go to the local LiveStrong program and another local charity.
The Sponseller running legacy
Ed Sponseller was a lifelong athlete. He enjoyed skiing, basketball and long distance running.
He completed nearly forty marathons, including London, Prague, New York and Boston.
His first was the Marine Corps Marathon in Washington D.C. in 1983, which he went on to run several more times, including the 1995 race when he joined his two sons, Todd and Stephen, in running their first marathons.

Their father's active lifestyle would profoundly influence and inspire his sons.
Just months after Sponseller began his treatments at John Hopkins, Stephen and his wife Amy participated in the Maine Marathon to raise money for Leukemia and Lymphoma charities.
Ed Sponseller was there to support then and even ran the last mile with each of them.
Stephen has since gone on to raise over $40,000 for Lymphoma and Leukemia.
Doing it his way
Ed Sponseller ran the Chambersburg half marathon right after he was diagnosed.
After his treatment, he didn't run any more full marathons, but he still remained active, enjoyed short runs and participated in the annual local Tom Ausherman Memorial Run
He also continued to run short distances and took spin classes, swam and worked out at the Y.
He and Susy were able to travel, take hikes and bike rides and enjoy life during that time.
Sponseller's running legacy goes beyond his family. His love of running inspired many others in the community, son Steve says.
He had a smile and a positive word for all runners, from the winners to those in the back of the pack.
He also enjoyed leading weekend training runs along with his brother and many friends in the mountains of Caledonia State Park in Fayetteville.
About LiveStrong and cancer survivors
Established in 1997 as the Lance Armstrong Foundation, the organization shifted its focus to cancer survivors as LiveStrong.
Then at about the time Ed Sponseller was diagnosed with non-Hodgkins lymphoma, the foundation partnered with the YMCA of the USA to create LIVESTRONG at the YMCA.
By 2010 Sponseller was well into his battle with cancer. The national YMCA LiveStrong program was growing, reaching over 80 YMCAs in 40 cities.
But it wouldn't come to Chambersburg until after Sponseller's death.
The local program is now in its fourth session, with 23 graduates and five current enrollees. Survivors meet twice a week in 90 minute sessions.
Treating the whole person
Designed to treat the whole person, the 12-week evidenced based program helps cancer survivors reclaim their health and well-being.
Ellen Poe, Chambersburg YMCA's Healthy Living director, said the program has served the community's cancer survivors in two ways.
It gives them a place to come where they can get safe exercise designed to meet their specific needs.
The local program can take up to 12 cancer survivors each session. Instructors have been specially trained to help survivors improve functional capacity and increase their quality of life through group fitness and strength training.
The program also provides a comfort zone and bonding experience since they are all cancer survivors, Poe said.
That helps with stress management and reduces the severity of therapy side effects. It can also prevent unwanted weight changes and improve energy levels and self-esteem.
Participants benefit from building cardiovascular endurance, core muscle strength and endurance, core flexibility and balance.
Referrals to the program can come from medical professionals or individuals, Poe said.
The only requirement is that the cancer survivor must be medicalky cleared first.
For additional information or to enroll in the program, contact Poe at 717-446-0533, extension 103, or by email at [email protected]
Paid Advertisement