Here comes Christmas, ready or not. Get in the mood with these holiday events, including lights and music!
Let's start with this awesome video of Santa Claus slipping into Chambersburg in the dead of night to light the community's downtown Christmas tree. It comes to us courtesy of Downtown Business Council of Chambersburg.
Come to downtown Chambersburg between 5 and 8 p.m. Friday and experience a magical evening as merchants line the streets with hundreds of luminaries. Those luminaries go well with the thousands of lights along the tree-lined streets, and the massive Christmas tree on the Square.
Bundle up and stroll through downtown, socially distanced of course. Don't forget to bring your masks in case you decide to do some Christmas shopping. Most stores have extended hours and in-store specials.
It's truly a magical night! 
RELATED: Downtown Chambersburg: Anticipating (a different) Christmas
Hello Strangers
The Hello Strangers will livestream their February 2020 show, filmed at the Capitol Theatre in Chambersburg, on their Facebook page at 8:30 p.m. Saturday with special guests, Stable Shakers!
Make it a special night while still observing social distancing guidelines by supporting local restaurants. Grab some take out to enjoy before, during or after the show — if you are comfortable doing so!
Interact with The Hello Strangers and Stable Shakers in the comment section during the livestream.
You can also celebrate the release of Brechyn & Spencer's duo album. Low Key" during the livestream. For those of you who don't know, Spencer and Brechyn are also in another band called Stable Shakers. They recorded an album during quarantine and now it's ready for you to enjoy.
If you preorder the physical CD during the livestream, Brechyn & Spencer will include a personalized, handwritten note when they mail your CD. The album will be available for streaming on Friday.
RELATED: Greencastle-Antrim: Heritage Christmas Light It Up contest
Check out the lights and music at these places
Looking for a good social distance activity to do with your family? One of our CAMS North staff members house is lit for the holidays. There is music choreography with the lights. Here are the directions and how to tune in. 100% of donations are going to the local animal shelter.Directions:Take Warm Springs Road past South Hamilton Elementary in about 1 mil-Turn left on Wood Duck East—-Turn left at the 4 way stop onto Mallard Dr. follow the street to the end of the cull de sac. (You will see the lights flashing)You may park in the grass circle facing the house. Tune your AM radio to 95.5. (our radio station) If you leave a donation 100% goes to the Cumberland Valley Animal Shelter and you may take a candy cane for everyone in your car.
RELATED: A 'Naughty or Nice?' Christmas
Christmas light displays
Here is a list of Christmas light displays in Shippensburg, Chambersburg, and Beyond. Old favorites are returning, some with upgrades and a few new drive-through displays!
Chestnut Drive Christmas Lights
The England family on Chestnut Drive is again bringing seasonal sparkle to the Shippensburg area this holiday season. The display at 247 Chestnut Drive in Shippensburg features hundreds of lights and decorations, including a projector. Tune into 99.1 FM to listen to the music that corresponds to the show. The sequenced songs are every other song. Weather permitting, the show starts at 5:15 PM daily and runs to 8:30 PM on school nights and 11:30 PM on non-school nights. As you are looking at the lights, please be courteous of the other houses in the neighborhood.
Chestnut Grove Winter Wilderness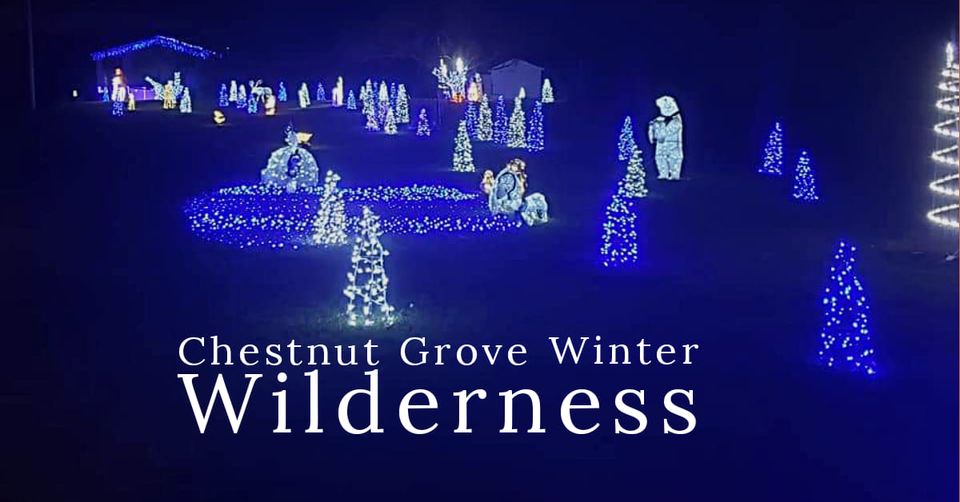 Celebrate the magic of the holiday season and drive-by Chestnut Grove Winter Wilderness this year. The Winter Light Show at 45 Chestnut Grove Road, Shippensburg, is now open with 36,000 lights. It's a blue glow you can't miss! Hours are Sunday – Thursday, 6 PM to 10 PM, and Friday – Saturday, 6 PM to 11 PM. The actual light shows start on the hour and half-hour, followed by a still display between showtimes. Tune your radio to 91.9 FM. A few of the songs this year include Beach Boys "Little Saint Nick," Alan Jackson "Let it be Christmas," Cloverton "Hallelujah," from the movie Frozen "Let it Go," and Snoop Dogg featuring Anna Kendrick "Winter Wonderland" (from the Pitch Perfect 2 soundtrack). Follow Chestnut Grove Winter Wilderness on Facebook HERE for the latest updates.
---
Dave's Light Show (Newville)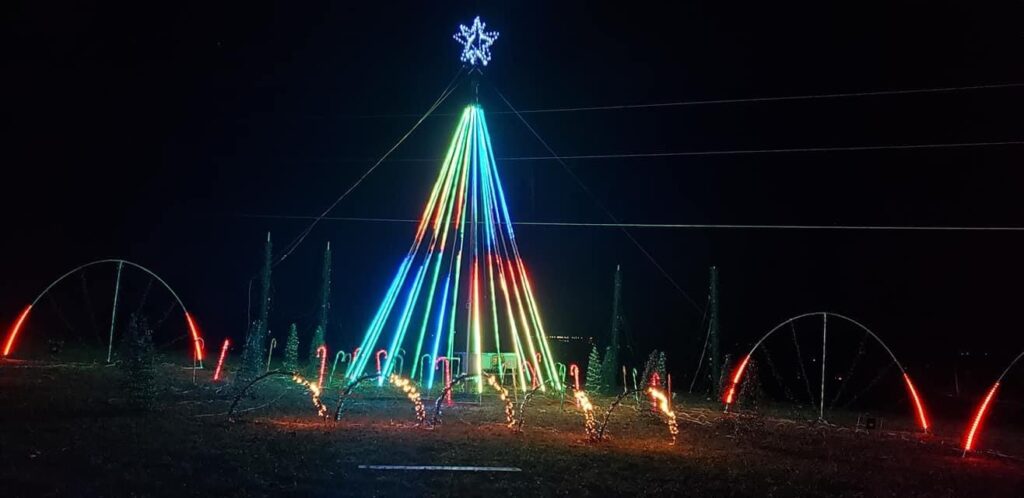 Dave's light shows are now up and running! Visitors enter the light show at 529 Doubling Gap Road (2.3 miles north of the traffic light in Newville – Route 233) and drive through to watch three synchronized light shows. Tune your radio as posted to 98.1, 88.1, and 95.9.
Take your time and progress through the driveway and enjoy the songs looping and lighting up the night sky! You will exit onto Mohawk Road.
Dave's Light Show runs daily from 6 PM and 11 PM through January 3, 2021. See more pictures here.
Mount Asbury Christmas Light Show (Newville)
Mount Asbury Christmas Light Show is now open on weekends. This first-year drive-through trail tells the Nativity Story.  The rustic trail is both paved and unpaved paths for 3/4 of a mile and begins at the second entrance. There is an 8.5 ft. height restriction on vehicles, and no motorcycles, RV's, large vans, buses, or low riding cars are permitted due to the path.  The trail is lit on Fridays, Saturdays, and Sundays from 6 PM to 9 PM, November 27 through December 27 (closed Christmas Day). The suggested donation is $10 per vehicle and benefits the Susquehanna Conference Camp and Retreat Ministry.  Mount Asbury Retreat Center is located at 1310 Centerville Road in Newville (three miles south of I-81, exit 37). Find the Christmas light trail on Facebook HERE for updates.
Christmas at the Grove
Join Rhodes Grove Camp and Conference Center Saturday at 5:30–9 p.m. for its first ever walk through Christmas light display. This event is free, and open to the public. Enjoy the Christmas displays and a night of fellowship in the community.
There will be complimentary hot chocolate and cookies courtesy of Rhodes Grove. Kids will have the opportunity to take home a craft, and write a letter to Santa.
Rhodes Grove Camp store and coffee shop will be open to shop. Take the opportunity to learn about summer 2021 camp dates and upcoming things happening at Rhodes Grove.
Voting will take place for which cabin is the Most Creative, Brightest Display, and Best Display.
7693 Browns Mill Road
Chambersburg, PA 17202
Volvo Lights Drive Through
Event by Volvo Construction Equipment North AmericaVolvo Construction Equipment North America beginning at 6 p.m. Friday through 8 p.m. Sunday. See Volvo's construction equipment in a new light at the Volvo CE Holiday Lights Drive Through at 304 Volvo Way, Shippensburg.
Contact-free family fun with lighted machine displays each evening. Santa and Buddy the Elf will be making a one night appearance (we know how busy they are this time of year) on Friday.
Opening night visitors can vote on the best display, decorated by Volvo employee teams, with the company donating proceeds to the winning team's charity of choice. Nightly from 6-8 p.m. Friday through Sunday.
Main Street McConnellsburg
Holiday lights contest
This event by Main Street McConnellsburg is an online adventure running through Dec 18. Downtown businesses and McConnellsburg residents have been decorating for the holidays, and have submitted photos to their festive creations to Main Street McConnellsburg.
Now they are asking the public to click on this link and view the entries, then "like" their favorite. There are two categories — business and residential. Each person can vote once in each category. The top three winners in each category at the end of the contest at 5 p.m. Dec. 18 will receive prizes.
One vote per person per category.
The winners in the business category will receive:
1st place – $50 gift card to Tower Ridge Inn donated by F&M Trust
2nd place – $25 gift card to Clugston's Market & Cafe
3rd place – $15 gift card to Gart'n of Eat'n
The winners in the residential category will receive:
1st place – $50 gift card to Wild Annie's donated by Community State Bank
2nd place – $25 gift card to Lincon Way Pizza
3rd place – $15 gift card to Tritle's Meat Market
Both category 2nd and 3rd place prizes are donated by MainStreet McConnellsburg
NOTE: One one vote per person per category please!
Happy Voting!